What is a Hague Apostille?
Apostille of the Hague is a certificate (with embossed seal in UK) that authenticates the origin of a public document (e.g., a Birth, Marriage or Death certificate, Court, Business, Notarial attestation or personal documents: Passport, ID Card, Diplomas).
Hague Apostille can only be issued for documents by a country party of the Apostille Convention and that are to be used in another country which is also a party to the Convention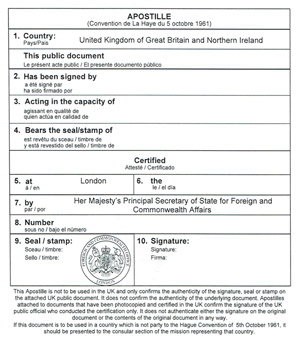 Post-Brexit a Multi-lingual Standard Forms may be needed to be recognised by the EU Member States once the UK has left the EU. Individuals should contact relevant authorities in the EU Member States to check whether they may require one.
A transsexual person who was granted a gender recognition certificate by the Gender Recognition Panel can apply for a new birth certificate which shows his/her acquired gender. Also if you been diagnosed with gender dysphoria or had surgery to change your sexual characteristics you can request a new birth certificate and legalise with Apostille of the Hague.
Do you have more questions?
You can check our comprehensive guide of frequently asked questions.
Countries part of Hague Convention
In which countries does the Hague Apostille Convention apply?
The Apostille Convention only applies if both the country where the public document was issued and the country where the public document is to be used are parties to the Convention. A comprehensive and updated list of the countries where the Apostille Convention applies are below:
A
Albania
Andorra
Antigua and Barbuda
Argentina
Armenia
Australia
Austria
Azerbaijan
B
Bahamas
Bahrain
Barbados
Belarus
Belgium
Belize
Bolivia
Bosnia and Herzegovina
Botswana
Brazil
Brunei Darussalam
Bulgaria
Burundi
C
Cape Verde
Chile
China (Hong Kong)
China (Macao)
Colombia
Cook Islands
Costa Rica
Croatia
Cyprus
Czech Republic
D
Denmark
Dominica
Dominican Republic
E
Ecuador
El Salvador
Estonia
F
Fiji
Finland
France
G
Georgia
Germany
Greece
Grenada
Guatemala
H
Honduras
Hong Kong
Hungary
I
Iceland
India
Ireland
Israel
Italy
J
Japan
K
Kazakhstan
Korea
Kosovo
Republic of Kyrgyzstan
L
Latvia
Lesotho
Liberia
Liechtenstein
Lithuania
Luxembourg
M
Macao (China)
Macedonia (FYR of)
Malawi
Malta
Marshall Islands
Mauritius
Mexico
Monaco
Mongolia
Montenegro
Morocco
N
Namibia
Netherlands
New Zealand
Nicaragua
Niue
Norway
O
Oman
P
Panama
Paraguay
Peru
The Philippines
Poland
Portugal
R
Republic of Macedonia
Republic of Moldova
Romania
Russian Federation
S
Saint Kitts and Nevis
Saint Lucia
Saint Vincent and the Grenadines
Samoa
San Marino
Sao Tome and Principe
Serbia
Seychelles
Slovakia
Slovenia
South Africa
Spain
Suriname
Swaziland
Sweden
Switzerland
T
Tajikistan
The former Yugoslav 
Tonga
Trinidad and Tobago
Tunisia
Turkey
U
Ukraine
United Kingdom of Great Britain and Northern Ireland (UK)
Uruguay
United States of America (USA)
Uzbekistan
V
Vanuatu
Venezuela