ACRO APOSTILLE
ACRO Apostille, also known as Police Certificate of Criminal Records, confirms the authenticity of the signature, seal or stamp of the UK document.
Can be used overseas or country's representatives eg: Embassy, Consulate, Employment or Immigration.
We can legalise in 1 day in an emergency!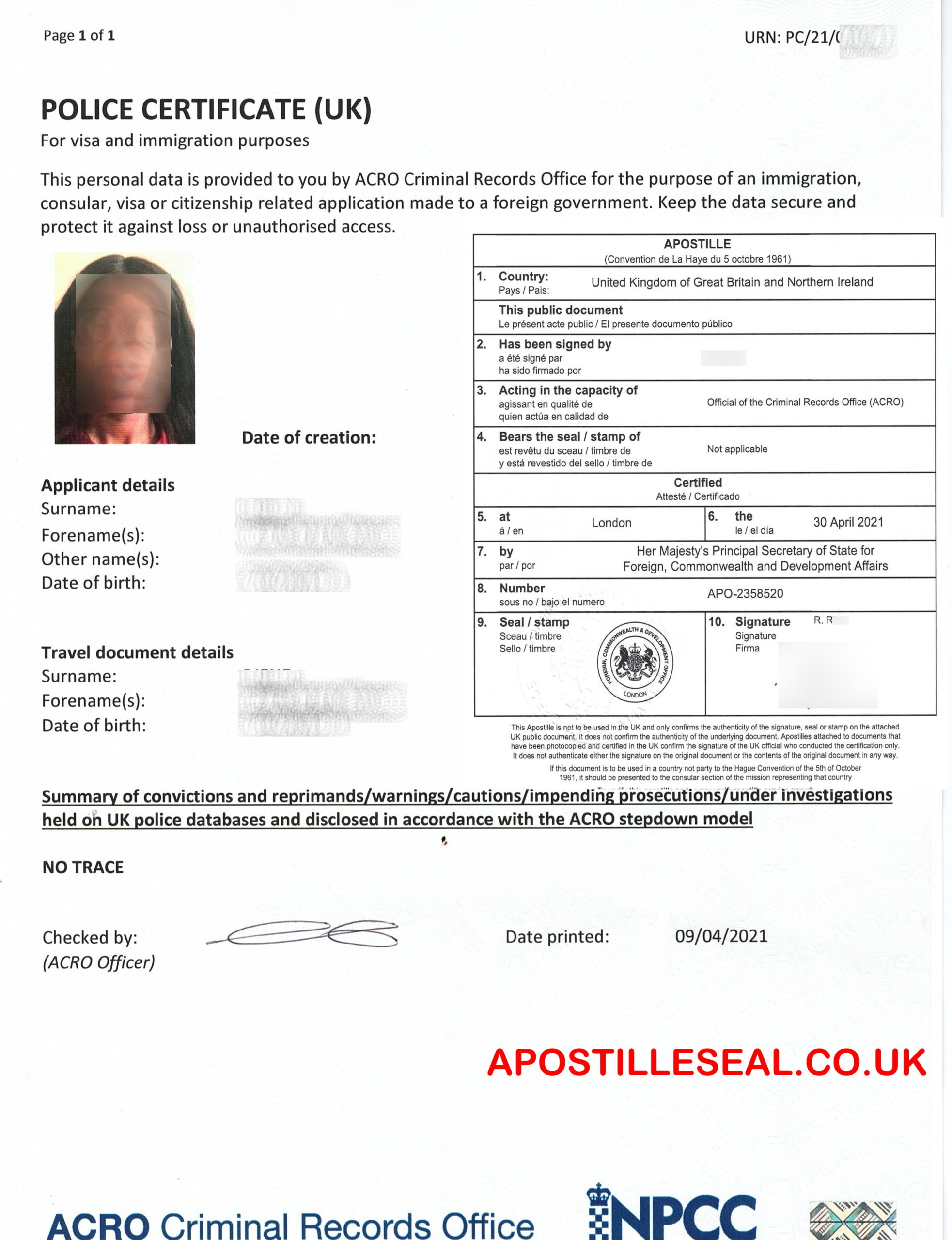 ACRO Apostille – Police Criminal Record
ACRO is the United Kingdom's Criminal Record Information System designated by the Home Secretary to
exchange information records with all EU and non-EU Interpol countries and show the details of an individual's criminal convictions, cautions, if there are currently open cases against the applicant or ongoing process of prosecution.
Why do I need legalisation for ACRO Police?
If you plan to migrate or require a visa to live and work abroad; or for obtaining citizenship/residency in order to be recognised overseas, Embassy's or Consulate the ACRO Certificate must be apostilled.
From where I can obtain an ACRO certificate?
Issued by NPCC (National Police Chief Council) and can be applied here .
Who can get the ACRO certificate?
Anyone who has lived or worked in the UK can apply for a ACRO Police Certificate. The Certificates are issued individually to the person named on the application. When you have received the hard copy of the document you can apply for the ACRO Apostille Legalisation. Please contact us if you hold an electronic version.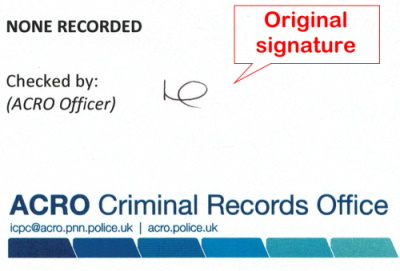 Important: The ACRO Police Certificate with the original signature (left picture) can be legalised straight on the original.  We identify the Officer signature and attach the apostille.
If the ACRO Certificate is in the digital form with digital signature (right picture) prior the apostille, the document must to be certified by a Solicitor/Notary. You can add this service on the form when you order the ACRO Apostille Legalisation.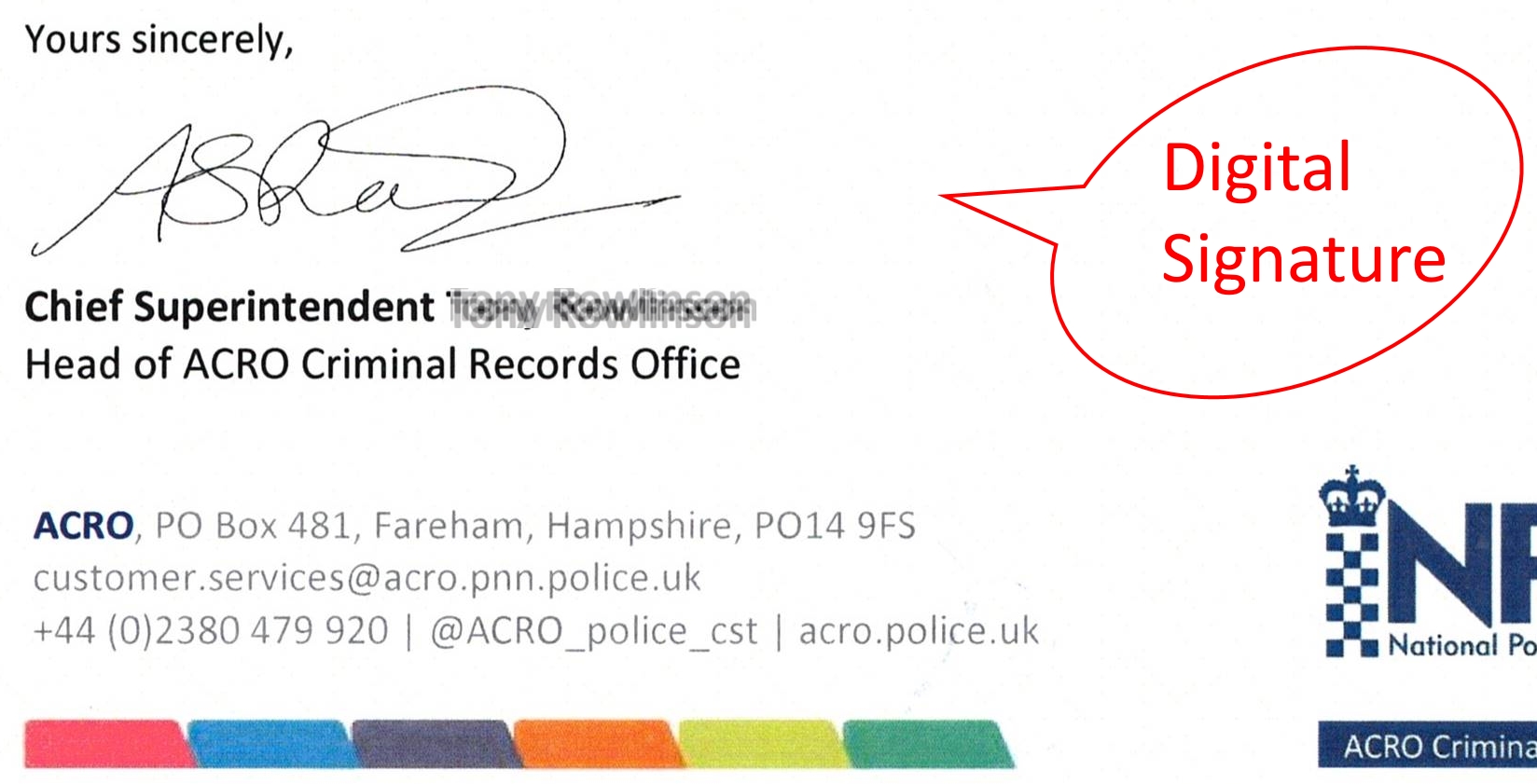 ACRO Apostille
Value - 9 Days
GOV FEE

ADMIN FEE

FREE POSTAGE
Apostille ACRO Certificate
Standard - 6 Days
GOV FEE

ADMIN FEE

FREE POSTAGE
ACRO Apostille
Fast - 3/4 Days
GOV FEE

ADMIN FEE

FREE POSTAGE
Apostille ACRO Certificate
Same Day Legalisation
GOV FEE

ADMIN FEE

FREE POSTAGE
How to legalise an ACRO WITH APOSTILLE?
ACRO Apostille in UK
You will need to follow three simple steps in order to get your document legalised by means of Hague Apostille and Seal of Government.
We guarantee the apostille legalisation on any UK document by our proven tracking, expert advise, and satisfaction of a job done.
Legalise ONLINE
Fill out the form with your details

Choose apostille services

Pay with the debit/credit card and send the original document by tracked post. Electronic document can be sent to the email.

When booking is completed, you will receive all the instructions and payment confirmation (please check invoice/spam folder)
Legalise by FORM
Print and fill the Order Form with your details
Post your documents with the Order Form to us
We legalise your documents and post back to you
Postal address is written on the top of the form
If you do not have a printer then please post your document to us with your details written down (Name, Email, Telephone and Return Address)
Payment can be made by Debit/Credit Card on the invoice, Bank transfer, Cheque, Postal Order etc
How many types of ACRO exist ?
There are four types of certificates for the ACRO Apostille:
• No Trace
There are no convictions, cautions, reprimands/warnings or conditional discharges
• No Live Trace
There is a criminal record but this information does not appear on the certificate because it has been stepped down or deleted by the Court
• Trace
There is a criminal record and all the information has been disclosed publicly
• Further Information Stepped Down
There are records of criminal activity, but only relevant criminal record information appears on the certificate as some information has been stepped down from National DNA Database (NDNAD), National Fingerprint Database (IDENT1) and/or the Police National Computer (PNC).
For CRB, DBS Disclosure click here
ACRO Police Certificate in UK



Your Title Goes Here
Your content goes here. Edit or remove this text inline or in the module Content settings. You can also style every aspect of this content in the module Design settings and even apply custom CSS to this text in the module Advanced settings.