P60 Apostille Legalisation
P60 Apostille, also known as End of Year Certifcate for the tax purpose,  confirms the amount of tax paid in UK. 
Can be used overseas or country's representatives eg: Embassy, Consulate, Employment, Overseas. We also legalise P45, P11D
Apostille can be attached on electronic or original certificate.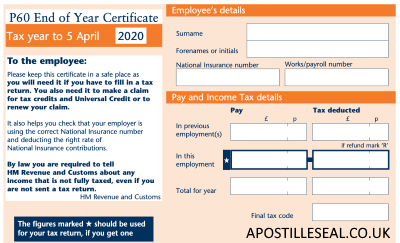 P60 Apostille Legalisation
A P60 is a document that explains how much you've earned over the tax year and it also includes how much you've paid in National Insurance contributions and Pay As You Earn (PAYE) income tax.
What type of P60 we can legalise with apostille?
The original P60 document cannot be duplicate, so please retain this in a safe place. We can attach the apostille on regular original documents, electronic or printed form. All options require Solicitor/Notary certification prior apostille legalisation.
P60 Apostille
Value - 9 Days
GOV FEE

ADMIN FEE

FREE POSTAGE
P60 Apostille
Standard - 6 Days
GOV FEE

ADMIN FEE

FREE POSTAGE
P60 Apostille
Fast - 3/4 Days
GOV FEE

ADMIN FEE

FREE POSTAGE
P60 Apostille
Same Day Legalisation
GOV FEE

ADMIN FEE

FREE POSTAGE
How to legalise?
P60 Apostille in UK
Legalise ONLINE
Book online and send the booking confirmation with the document need to legalised by post
Legalise by FORM
Print and fill the Order Form with your details
Post your documents with the Order Form to us
We legalise your documents and post back to you
Postal address is written on the top of the form
If you do not have a printer then please post your document to us with your details written down (Name, Email, Telephone and Return Address)
Payment can be made by Debit/Credit Card on the invoice, Bank transfer, Cheque, Postal Order, Paypal, etc.
Where you may need the P60 apostilled?
Proof of fiscal residency
Double taxation avoidance
Proof of employment or employment history
Embassy's/Consulate
Mortgage or loan
Why Choose Us?
Real reasons why our clients love us
FCO REGISTERED

 The premium Same-Day Legalisation is for registered businesses only. We legalise any valid document for businesses & private clients
SECURE PLATFORM

Our website is 256 bit encrypted, we ensure our clients payment, company and personal information is protected at the highest level
LONDON OFFICE

Real advantage for those who need an emergency apostille. Our 5 minutes walk from the FCO makes possible to get legalisation in 1, 2 hours
SIMPLICiTY

Clear and transparent pricing are our aim. Our apostille legalisation process are based on simplicity and clarity for all our clients







If you have lost or could not find your documents you can order a copy of a  Birth, Marriage or Death Certificate.
We can provide duplicate if document has been registered in United Kingdom, England, Scotland, Northern Ireland, Wales or overseas British territory.

Certificate Replacement
Birth Certificate - click here
Marriage Certificate - click here
Death Certificate - click here