VERIFY AN APOSTILLE
To verify an Apostille issued in UK you need to have:
Date the Apostille was issued
The Apostille Legalisation number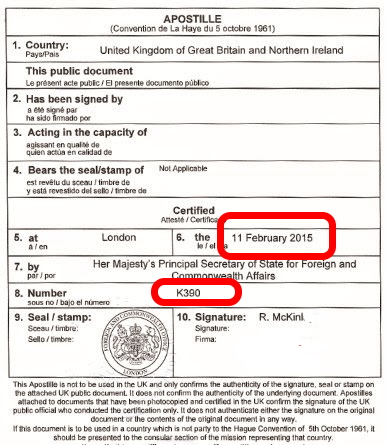 What verification of the Apostille do?
Checking that the Apostille is issued in UK
Validating that the documents are genuine
The signature (original or electronic) are real
Passports, ID Card, personal documents have been seen by authorised person
What is the Apostille?
In UK the Apostille are an certificate embossed with a seal
Are issued by UK Government (Foreign and Commonwealth Office)
Anyone can verify an apostille by checking FCO website
To verify an Apostille Certificate you need to allow at least 24h from the date of issue for the registration (K or APO) to be propagated.
You need more documents to legalise with Apostille?
Legalise by FORM
Print and fill the Order Form with your details
Post your documents with the Order Form to us
We legalise your documents and post back to you
Postal address is written on the top of the form
If you do not have a printer then please post your document to us with your details written down (Name, Email, Telephone and Return Address)
Payment can be made by Debit/Credit Card on the invoice, Bank transfer, Cheque, Postal Order, Paypal, etc.